Our exercise protocols are born through scientific researchand and validated by people like you. Appropriate for all fitness levels.
Our circleTap™ finger tapping test measures motor control in between doctor visits. Get a more complete understanding of your condition.
Better adherence equals better outcomes. We help you take your medications on time, every time. Parkinson's disease-specific medications.
Optimizing quality of life for People with Parkinson's
The pdFIT™ app works with our Care Dashboard to provide as much insight as possible to optimize Parkinson's disease treatment plans. Parkinson's-specific exercise protocols, medication management and symptom measurement systems engage, inform and empower the entire care team.
Our 2-year study showed that people who use pdFIT regularly had statistically-significantly improvement in their motor control (circleTap™ scores) over the entire study period.
For more information on the pdFIT™ cycling program and the required sensors please contact us.
Works with iPhone 4S and up, iPad 3 and up, iPad Air, iPad mini.
Designed for group, therapist lead and individual sessions
Did my first protocol the Parkinson's SA on Mon. Immediately noticed improved hand dexterity, and easier cognition (better at complex tasks). Tues-Thur I noticed longer stride, much less shuffle, easier to walk heel first instead of flat footed, no drool (norm is 1-3x/day), faster cognition/reactions. I had developed minimal tremor, a little finger movement that in the last 1-2 months has been noticeable at least 1x/day… no tremor since Monday...

THANK YOU!

IT'S SO EMPOWERING TO IMPACT MY SYMPTOMS WITH EXERCISE THAT I CAN SEE AND KNOW IS WORKING! (I'm 3 1/2 yrs from diagnosis and not on meds yet — my bike is now my "med" of choice!)

:-D
I feel much stronger and better in control of my symptoms than before the cycling.

So, that is a big positive for me. I think I am holding the progression at bay. Many people whom I meet don't believe that I have the disease.

What a compliment!
I couldn't break out of my routine of daily three-mile walks.

The Beneufit system was exactly the push I needed to diversify and intensify my exercise program.

The app is like having a workout buddy who's encouraging me to work harder, and knowing that my workouts are being saved (and seen!) motivates me to do the best I can.
A Fun and Clinically Relevant Way to Measure Motor Control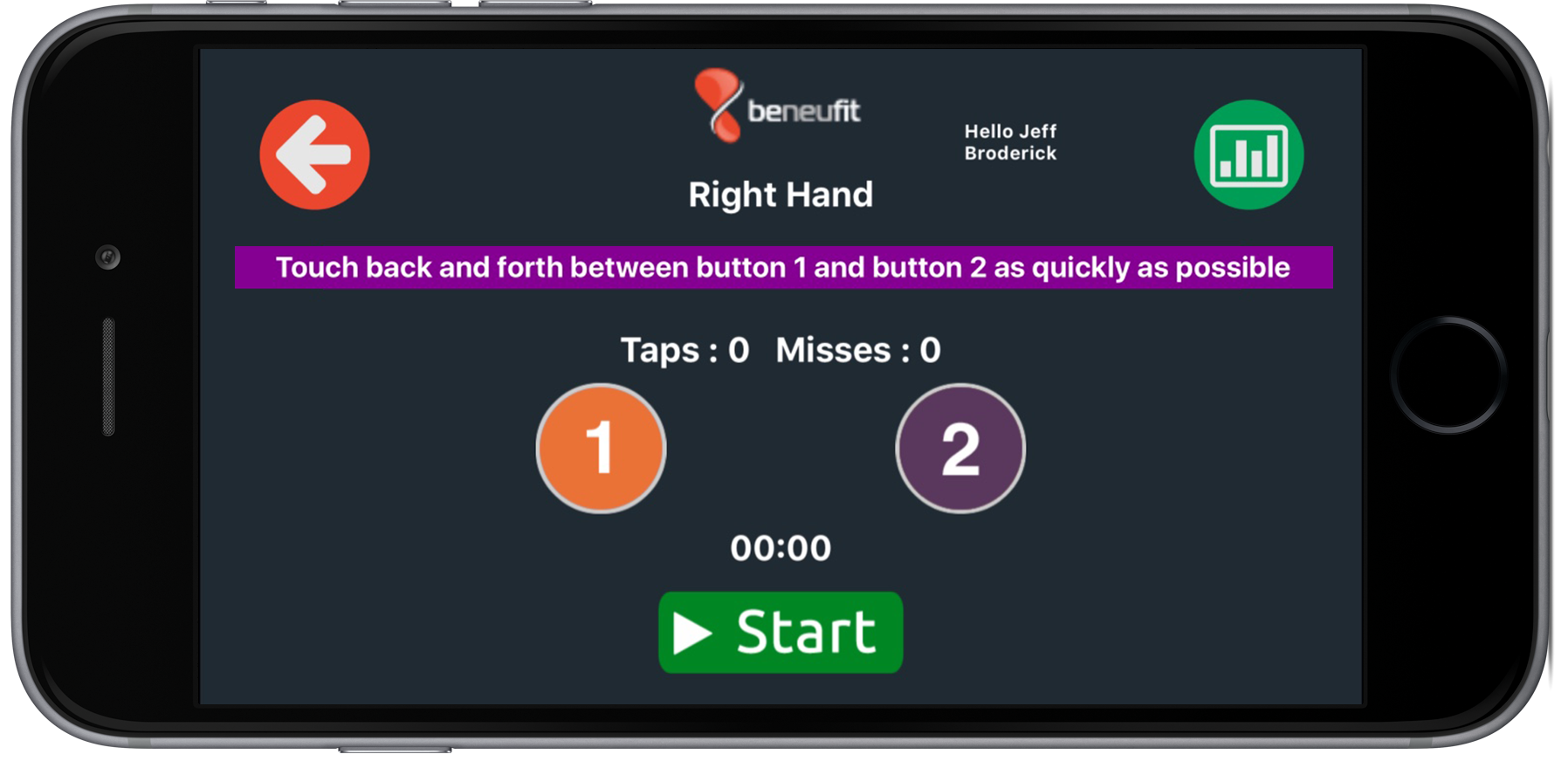 The circleTap™ finger tapping test is an integral part of the service. Based on numerous peer-reviewed studies which validate the ability for finger tapping tests to measure bradykenesia1, these test results are how we provide positive feedback to our clients.
This 60-second test measures finger tapping velocity and accuracy for both left and right hands. All test scores are accesible through the app and web-based dashboard for review by clients and their caregiving team.
1. Tavares A, Jefferis G, Koop M, Hill B, Hastie T, Heit G, Bronte-Stewart H. Quantitative Measurements of Alternating Finger Tapping in Parkinson's Disease Correlate With UPDRS Motor Dissability and Reveal the Improvement in Fine Motor Control From Medication and Deep Brain Stimulation. Mov Disord. J., Vol. 20 No 10, 2005, DOI:10.1002/mds.20556
Better Compliance Means Better Outcomes
Simple to set up and use, reminders appear on your iPhone or iPad when it's time to take the medication. Activate the reminder and a compliance screen displays an image and description of the medication along with way to record you compliance so your caregiving team knowy you're staying on track.
A history of medication dose and timing as it relates to circleTap™ scores enables both the users and caregivers to visualize the relationship of medications to motor control.
Bio-feedback Device Combines Physical and Cognitive Benefits
The pdFIT™ app coaches people through personalized exercise protocols designed to improve Parkinson's disease symptoms and delay disease progression. The goal is to keep Actual heart rate and cycling cadence readings as close to the Target values as possible.
Upon the completion of the exercise a fitFactor™ score is generated. This score is an indication of how closely one follows the protocol.